I stumbled upon this very

cute company

on instagram called The Bath Cafe.
The name alone describes what their company is all about!
Sweet Smelling goodies for your body and soul needs.



The Bath Cafe

is a bath and body line with products that delight your senses.
They are a small family owned company that make handmade
fresh natural skincare that is paraben, chemical and toxin free.


The Bath Cafe

also make small batches at a time,
So you know there products are fresh!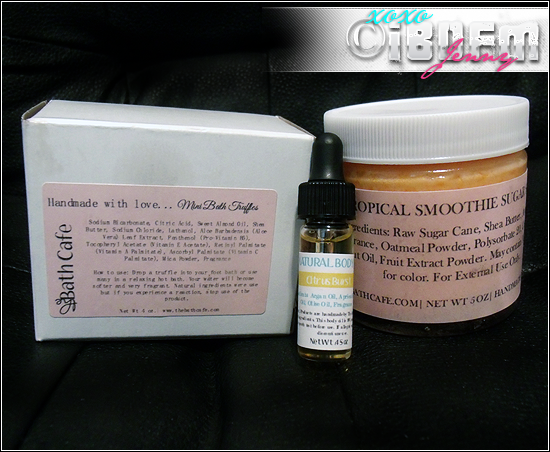 I was thrilled when they contacted me to try some of their products and review.
They sent a cute little care package with three of their

sweet

smelling homemade

products
that I tested out.



The Bath Cafe Sugar Scrub




The scent I received was there Tropical Smoothie Sugar Scrub.
As soon as I opened it I was drawn by the sweet smell!
It smelled so good I wanted to eat it.
Don't be fooled, Even though its all natural it is for external use only!



Ingredients: Raw Sugar Cane, Shea Butter, Argan Oil, Fragrance,




Oatmeal Powder, Polysorbate 20, Castor Oil, Coconut Oil,




and Fruit Extract Powder.




May also contain Mica Powder for color.



Inside Look: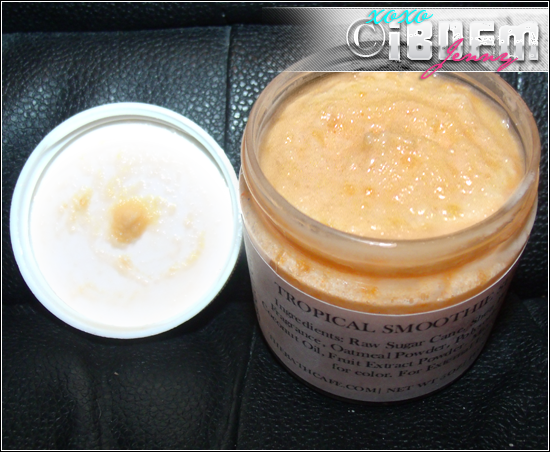 When I tried the sugar scrub out I noticed it is thick and rich.
The oils really left my skin feeling moisturized and really smooth.
I'm not sure if its whipped or not, because it didn't say whipped on it,
But I have to say that it's really creamy in texture and definitely not hard or rough on the skin.
I've tried sugar scrubs from other companies that looked stiff and I didn't like.
Closer Look: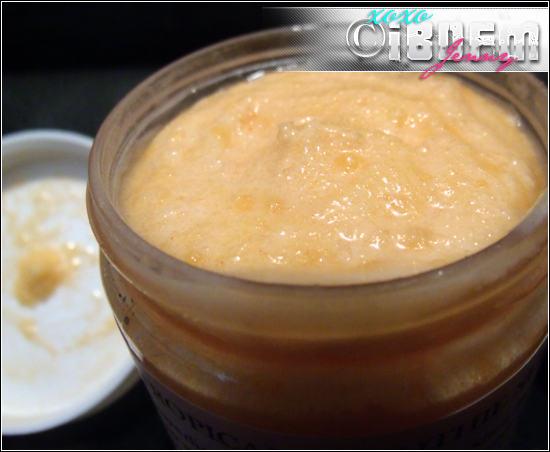 I really LOVED this

sugar scrub

!
I use it in the shower after I wash my body with soap so it replenishes the oils I washed away,
leaving my skin feeling nourished and silky smooth.
It exfoliated my skin effectively without causing the stinging
sometimes associated with Salt Scrubs which is why I like sugar scrubs better.



The Bath Cafe Natural Body Oil






The scent I received was Citrus Burst.
Another sweet yummy scent that smells amazing!


The Bath Cafe Natural Oil

can be used for your Bath water,

Hair and/or after Shower moisturizer.

A little goes a long way.

I personally love to put a few drops in my hot bath because the



Citrus aroma

really leaves me feeling relaxed,

While the oils help my skin get moisturized & feeling smooth.

Ingredients: Argan Oil, Apricot Kennel Oil, Olive Oil,< and Fragrance.



The Bath Cafe Mini Bath Truffles






Scent in Pistachio Cake that smells like a delicious treat to eat.

Ingredients: Sodium Bicarbonate, Citric Acid, Sweet Almond Oil, Shea Butter,
Sodium Chloride, Lathenol, Aloe Barbadensis (Aloe Vera) Leaf Extract,
Panthenol (Pro Vitamin B5), Tocopheryl Acetate (Vitamin E Acetate),
Retinyl Palmitate (Vitamin A Palmitate), Ascorbyl Palmitate (Vitamin C Palmitate),
Mica Powder, Fragrance
Opened Box:


My Box came with 4 Mini Bath Truffles.

These little bath truffles are like bath bombs but

smaller treats

used in your bath water or foot bath. They leave the bath water feeling softer and fragrant for a nice relaxing experience.


The Bath Cafe Mini Bath Truffles

will create fizz in the foot or body bath.

Closer Look:



You can see all the natural bits in these

Mini Bath Truffles

.

All Homemade with love by

The Bath Cafe

!
I loved the sound they made while dissolving in the water and they definitely left the water feeling softer leaving my skin smooth and my body relaxed!

I absolutely loved

The Bath Cafe

products I tried out because
of the fresh products and natural ingredients used.
They are

not tested on Animals

as well which is just another plus!
I also love that they are homemade.



Have any of you tried these products from The Bath Cafe?




If so tell me what you thought of them?




If not why not?



Stay tuned!
In a few days I will be posting a video review up on these products,
So you can see first hand how great they are!



Don't forget to check out their site and snag some goodies of your own!


They are having a 50% sale right now with the product code on their main page.
www.thebathcafe.com



Disclaimer: I received these products from TheBathCafe Company




complementary to try out and review.