Some Snags
Some of my snags can be found at
Along with other great tagger snags! So check them out!
They have great Artist you can use to make awesome tags some PTU others FTU.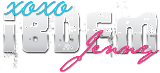 About Jenny
Admin
I'm a stay at home mom of 4 kiddies and 2 puppies and happliey married. I am a freelance Graphic/Webdesigner. On my free time I blog about makeup, skin care, snacks, ect. I LOVE Makeup so I play and share tips and reviews with you all.