My Baby
OK so we found out what we are having!!
We are soo happy!
It's a
Boy
!
Now I will be even LMAOO 2 girls & 2 boys!
My sono pics can you tell how much he's grown lol!
From the 1st sono to the last.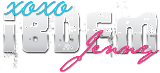 About Jenny
Admin
I'm a stay at home mom of 4 kiddies and 2 puppies and happliey married. I am a freelance Graphic/Webdesigner. On my free time I blog about makeup, skin care, snacks, ect. I LOVE Makeup so I play and share tips and reviews with you all.