June - OyatsuBox Opening


I know I'm posting this all late but I was so busy over the

summer


I didn't have enough time to get everything up.
I'm trying my best to caught up so stay tuned for new posts and videos soon!

Hope you all enjoy this video and please

leave comments

.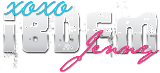 About Jenny
Admin
I'm a stay at home mom of 4 kiddies and 2 puppies and happliey married. I am a freelance Graphic/Webdesigner. On my free time I blog about makeup, skin care, snacks, ect. I LOVE Makeup so I play and share tips and reviews with you all.