Hubby surprised me with some subscription boxes!
He wanted it to be a surprise so he didn't tell me which they where..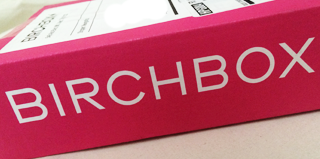 So When the Welcome

Birchbox

came to my door I was happy
because I have heard so many things about them but never tried them out.



I posted the video of the box opening in a post before this one if you want to check that out.
This post will give you a closer look and

swatches

on everything in this box.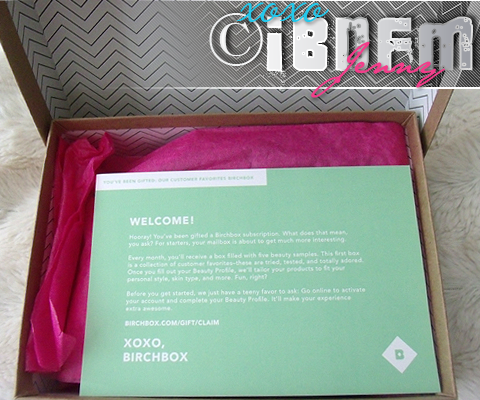 Here is the card that gives you info on whats inside the box and how much it costs in stores.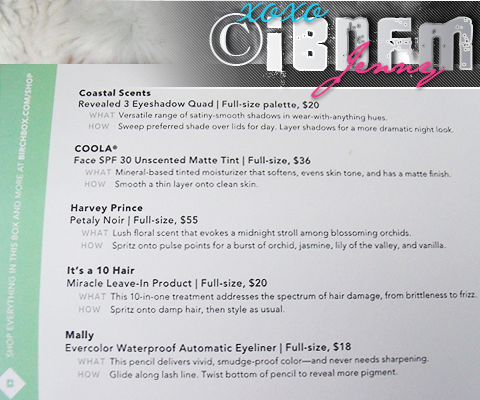 I'll go over everything in my posts also
so if its hard to read the card don't worry I got you ;)

Here's the

Birchbox

and all its contents.


Lets take a closer look at the goodies!



1- Coastal Scents


Revealed 3 Eyeshadow Quad


This is a palette sampler called

Desert Bloom

.
Net Weight 2.4 g/0.08 oz


Full-sized palette costs $20


I think its a great size to test out and see if you like the eyeshadow
or to keep when traveling so you don't have to bring a big sized palette.
I have tried

Coastal Scents

eyeshadows before and loved them
so I'm very happy with this in the birch box.

Here is a closer look and some swatches of the eyeshadow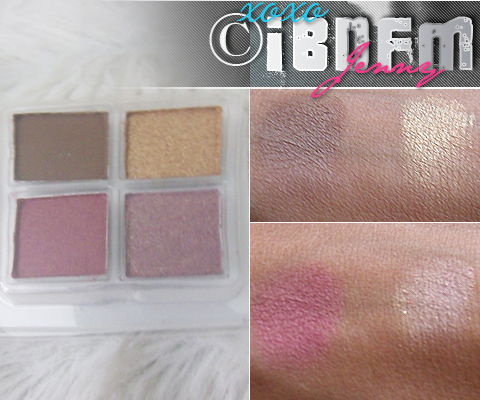 I'm loving the colors and they are great for everyday use or date nights :D

Next we will open up this cute little package that a couple of items came in: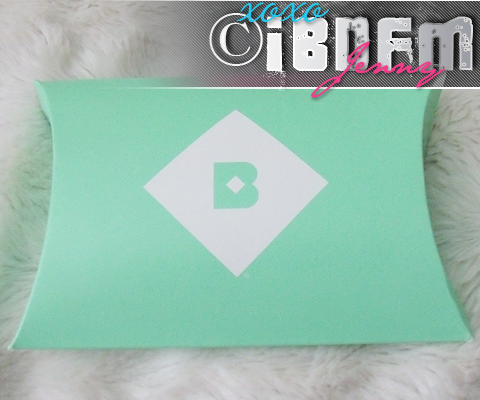 2- COOLA
Face SPF 30 Unscented Matte Tint

Its a sample size .17 Fl oz


Full size costs: $36



This size is great to keep in your purse so you can never forget to put on some sunscreen.
I always apply sunscreen before my makeup routine to always protect the skin.

I've never tried this brand before but it's a
mineral-based tinted moisturizer that softens and evens skin tone.
It has a matte finish, so it doesn't/shouldn't leave your face feeling oily or shiny.



3- Harvey Prince


Petaly Noir Fragrance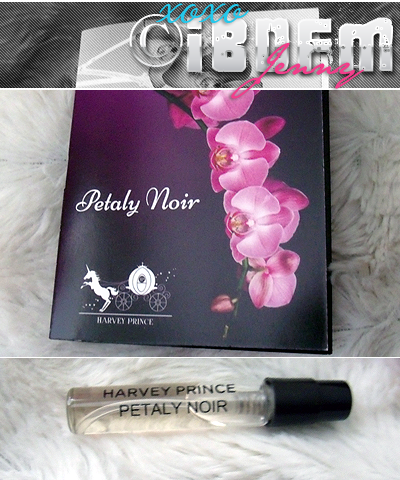 Sample size
(Sorry no exact measurements given)


Full size costs $55



I'm not happy with this product.
It smells like a perfume I have smelled before
and it gives me a headache after I smell it.
Smells like old lady perfume to me.
Just wasn't my thing I guess.
Plus I could have gotten this for free at sephora or any other store.

But if you would like to try this out you can use coupon code Orchid on their website.
*Not sure exactly how much you can save

but it states

"for extra magic use the coupon code"

lol.



That was the last item in the small box so
we will continue with the rest of the goodies inside

Birchbox

.



4- It's a 10 Hair


Miracle Leave-In Product



Sample Size 2 fl oz


Full size $20



I think it's a good size to try this product out.
I have seen them in stores but never tried them before.
It's a

10-in-one treatment

that addresses the spectrum hair damage,
from brittleness to frizz.

I definitely need to try this since I have a color strip in my hair
that I bleach and color constantly that needs

love

and care badly.

Last item:


5- Mally


Evercolor Waterproof Automatic Eyeliner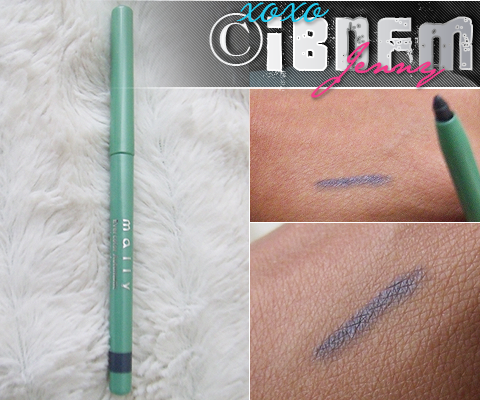 I think this is full size but I could be wrong.


Full Size $18


Good size.
This eyeliner is in Shimmering Steel.
I haven't tried this brand either but
when I swatched it seemed like a good smooth glide
and color is great!

This was an ok

Birchbox

.
Since this is a Gifted Subscription box,


Birch box

sent me the customer favorites.
Next month I should be getting

July Birchbox

.



Be sure to comment below and let me know what did you think about the products I received?




If you receive Birchbox let me know how do you like the boxes and the service?