December Ipsy Bag
WOOOHOOO!!!


That time of the year!!



December Ipsy Bag

at my door!



Will be posting about this soon!
Sorry been so busy with last minute shopping and babies sick :(

This is just a sneak peak ;)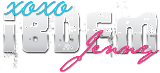 About Jenny
Admin
I'm a stay at home mom of 4 kiddies and 2 puppies and happliey married. I am a freelance Graphic/Webdesigner. On my free time I blog about makeup, skin care, snacks, ect. I LOVE Makeup so I play and share tips and reviews with you all.