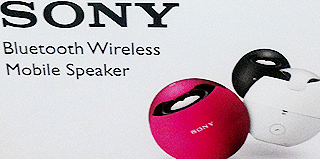 Won the Sony influenster Challenge!


Sony Portable Bluetooth Wireless Speaker

This ultra-portable speaker fits in the palm of your hands!
You can listen to music on your phone wirelessly or
take a call on the go with its built-in speakerphone.
It has

Bluetooth®

capability to stream

360 degrees

of sound wirelessly.

I love it,
its so cool it even comes with a cute little pouch to carry it when your not using it.

You can get it in three colors, black, white, or even

pink

!
It retails for $69.99 but on Sony's Website its on

sale

for $49.99
so hurry and get them as gifts or get all the colors for yourself!
Do you have one of these?
Do you Love it?