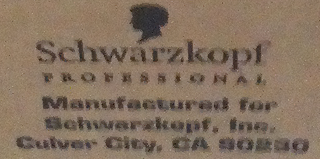 OMG I won An Influenster Brand Challenge!!
And the Best one yet!
The Schwarzkopf Professional OSIS+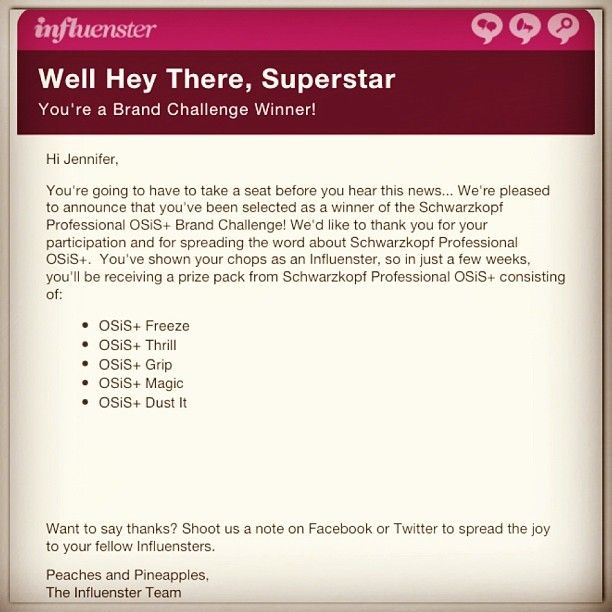 When I received a HUGE package I was so excited!!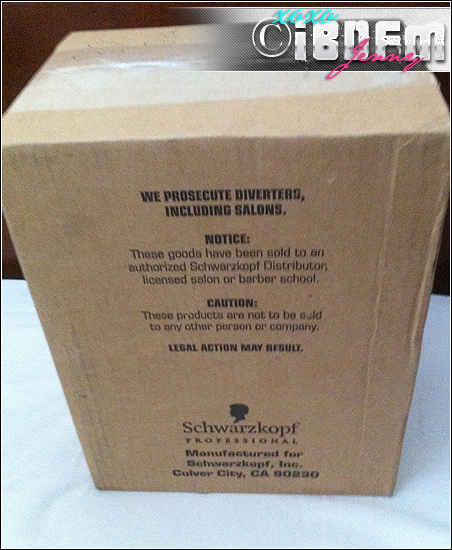 It was packed to the top with Goodies!!



Here was everything in the Package:




First let me say Sorry,
I don't have any prices on these items as they sell them in salons and
stores which come at different costs.
1. OSiS+ Freeze
Strong hold hairspray
Lasting fix
15.2 oz.
Control level 2
for medium control.
I am loving this product!
It contains ingredients that help guard hair against harmful UV rays.
It has resins that block out humidity and
allow hair to be reshaped after spraying.
It really does work!
2. OSiS+Thrill
Fibre shine texture gum,
For elastic style control
3.4 Fl. oz.
Control level 3
for strong control.
My daughters go to product now!
She uses it for her unruly curly hair,
right after she washes her hair when its damp.
It dries naturally without frizzing her hair!
Features:
Mega elastic fibers, Strong texture control, Shine and separation, Bendable and
moldable.
3. OSiS+ Grip
Extreme hold mousse
7 oz.
Control level 3
for Extra Strong Hold
Ultra-hold styling foam which supports all hair texture.
Again another product I love from them!
Leaves my hair curly with no frizz.
"Enhanced with bamboo extract,
the anti-oxidant with moisture binding properties which strengthen and fortify the hair."
4. OSiS+ Magic
Anti-frizz shine serum
1.7 oz.
Control level 1
for Light control.
This stuff is a
miracle!
I use it everyday now.
Anti Frizz Shine Serum delivers
weightless hold
and separation,
it controls
frizz.
5. OSiS+ Dust It
Mattifying powder
Multi purpose
.35 oz.
Control level 1
for Light Control.
This is a very weird powder.
A little goes a long way.
I use it on my scalp after my hair is dry and
after styling for a lift at my roots.
Works wonders by giving me Volume,
which Lord knows I need in my life!
"This silica powder and film formers provides for a dry light hold."
They also sent me a few extras!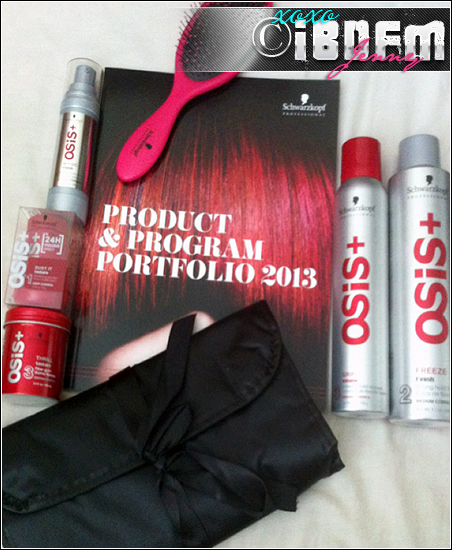 A brush
A magazine of there Product Portfolio of the year
A travel Makeup/Product holder
Thanks for checking out my blog be sure to leave comments!
If you have tried OSiS+ Products tell me which and how did you like them!?