My YouTube Video Unboxing the Spring Fever Vox Box 2013

Watch my Youtube video of the Sping Fever Voxbox opening!




Going to post pics and other info soon!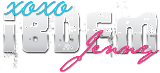 About Jenny
Admin
I'm a stay at home mom of 4 kiddies and 2 puppies and happliey married. I am a freelance Graphic/Webdesigner. On my free time I blog about makeup, skin care, snacks, ect. I LOVE Makeup so I play and share tips and reviews with you all.