Sorry I'm really late posting, been so busy with the kiddies when they got off of school.
So now my ketchup time!

This posting will be on the Target Beauty Summer Bag & June MyGlam Bag.




I decided to post them together since I got them on the same day :D

First lets talk about the Summer Target Beauty Bag



Now the Target Beauty Bag is a Makeup Bag that Target sends out for free twice a year that is filled with awesome products!




I highly recommend snatching these up when they are available. They usually announce them on their Facebook page and next time I will try to post them here when they are available.

Now lets get to the goodies:

First sample in the FREE Bag is
TRESemme Split Remedy Shampoo & conditioner 1 Fl Oz bottles




I think it's a great size for traveling!


2nd item is
Neutrogena Ultra Sheer SunBlock SPF70 also 1 FL oz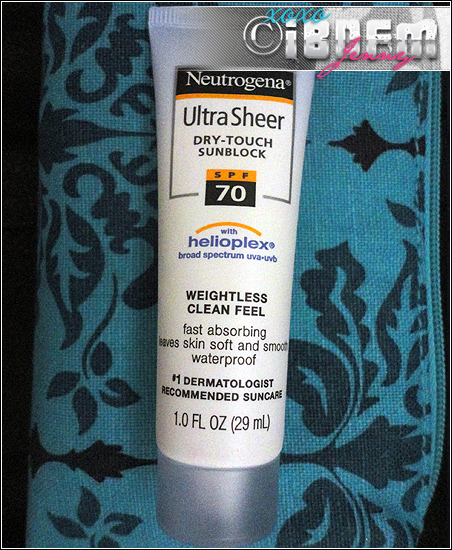 Which again is a great travel size to throw in your purse.

Next is the Aveeno Daily Detoxifying Scrub 1oz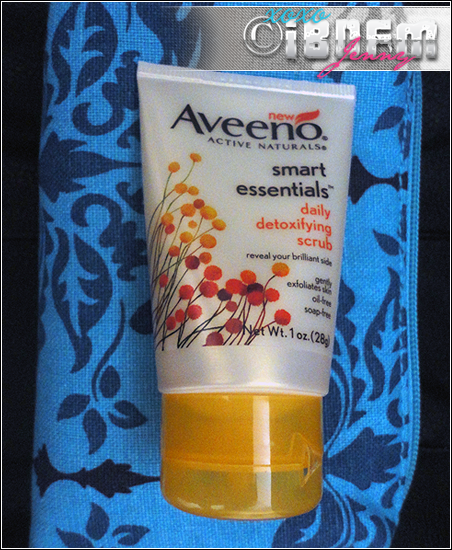 Another great item to put in my travel bag on day-cations or vacations ;)

Item 4 is Garnier Fructis Color Shield Shampoo & conditioner .34 FL oz packets




I don't like packets but its sample and free so not complaining

last item is REVLON ColorBurst Lip Butter color in peach parfait




Sample size is only one application but hey you really can't complain its free!

BONUS: coupon booklet great savings!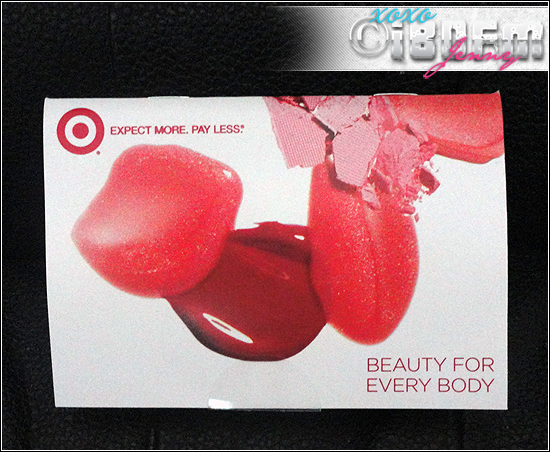 Love how Target gives these out! The bags are too cute!
Don't you just love free Items!!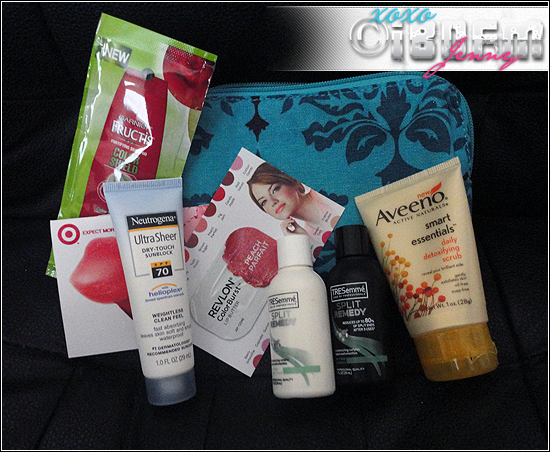 Now to look at MyGlam Bag of June: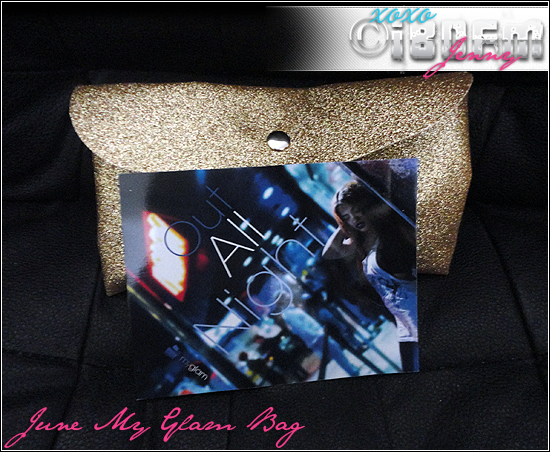 Ok I loved my bag..
Some ladies complained about the bag shedding mines shed a tiny bit but actually stayed together.. Now I didn't like how it seemed to be made of cheap material and I can agree with that I didn't like that and mines did smell the 1st day but after airing it out one day it was fine. I'm going o give it to my teen daughter.

Now for the goodies inside
First up Philosophy Gel Cream Moisturizer




This item looks promising. Size is in the small size (.4 Fl. oz.) but if you are throwing it in your purse on days you forget to put moisturizer on I guess it works for you then. Oil-free and I will be using this. I have super dry skin so I'm always applying creams.

2nd item in myGam Bag is NYX Lipstick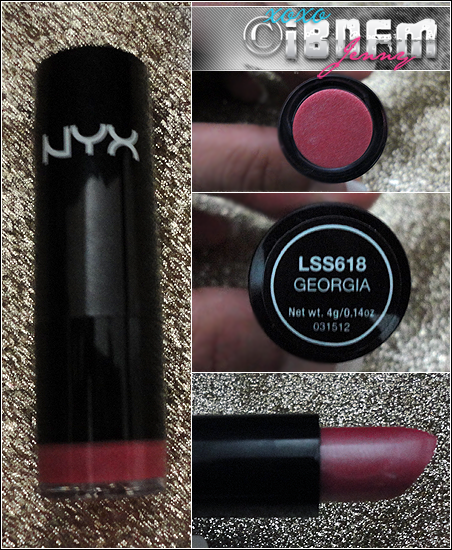 I was very excited for this! I thought my color looked awesome when I got it but after I put it on I thought it was ok. Only cause you can barley see it but I can wear this on days I don't want my lips to pop as much.




On the b4 pic all I put on my lips was a little concealer & lip balm the after was the NYX lipstick color which I got was Georgia. I just wished it was a bit brighter.

3rd item was the living proof Nourishing Styling Cream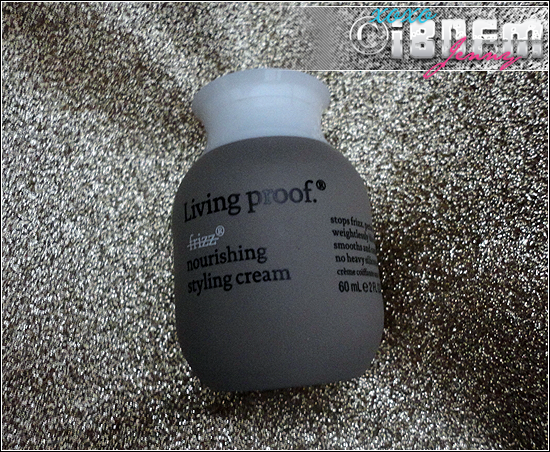 I'd say a good sample size to determine if you will like the product or not. 2Fl. oz.
I can't wait to try cause lord knows my hair is frizzy!

Last item in the bag was the Marbella Permanent Eyeliner pen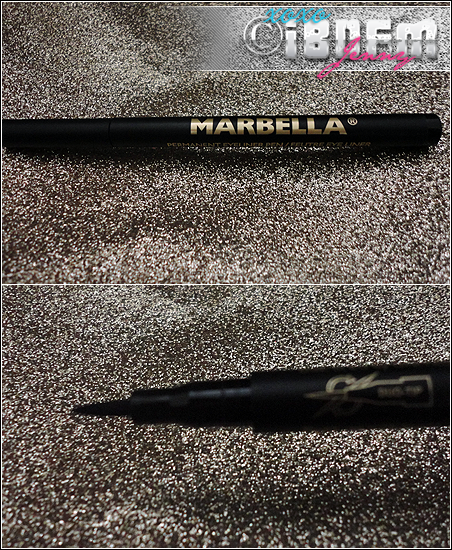 I LOVE this item and have to say my favorite in the bag.
Some of the ladies did complain of Smudging, unable to remove, but mines was perfect for me.
1. It didn't smudge on my skin but them again my skin is always dry.
2. it was GREAT last-wear and I was easily able to remove it (eye contact solution)

I must point out it does say don not use with eye contacts I'm guessing cause it would cause it to run/smudge since it removes it easily so I haven't tried them with contacts on and I never use liquid eyeliners on my waterline I use pencil for that part of my eye. But I loved this since it was easy to apply and long lasting!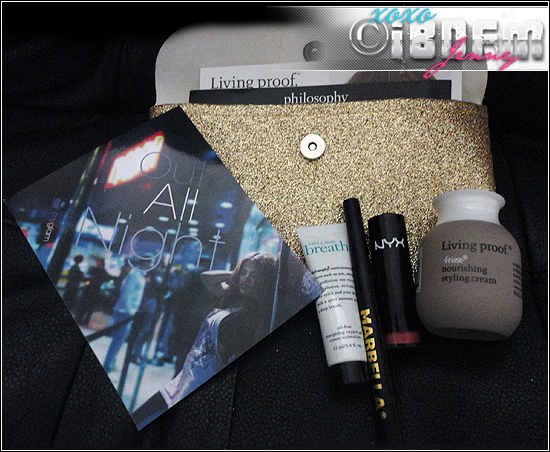 That was it. Now I do hope they start putting more items in these bags cause there was only 4 I wish there was a bonus item but all in all I liked this bag.

What did you ladies think? What lipstick colors did you get?